Three Weeks. That's the exact amount of time you have left to visit the Balenciaga exhibition at the Museum of Lace and Fashion in Calais. With the current Eurotunnel situation, if you set off now, you might just make it!
Fashion is often derided by academics, but just like empires, colonies, and kingdoms, fashion has its own swirling history. Fashion is affected by wars, influenced by revolution, and an accomplice of social change. Where textbook history has figures such as Napoleon, Hitler, and King Henry VIII, fashion history has Chanel, Dior, and Balenciaga. They are not equatable in their actions, but in the size of their impact.
The now classic trench coat originates from the horrors of WW1, the mini skirt invigorated the equality and female liberalism campaign of the 1960s, and fair trade clothing companies such as People Tree highlight a growing social awareness of the need to end human exploitation. Fashion acts as an indicator of widespread societal movements and discontent.
Cristóbal
Balenciaga as a couture figure is one of the greats. As a trained tailor, he re-defined the silhouette of women's clothing, and then did it again, and again. He is quoted as saying,
"A couturier must be an architect for design, a sculptor for shape, a painter for colour, a musician for harmony, and a philosopher for temperance."


The result? Freedom for women. Tunic dresses, sack dresses, baby doll dresses which effectively eliminated the waist, peacock tail dresses (now known as dropped hem), the empire line: he created them all. He gave women choice.
The current exhibition in Calais provides an insight into the relationship between Balenciaga and lace. It traces how Balenciaga explored the charm and potential of lace, incorporating it as both decoration and as the main fabric. The curator of the exhibition,

Catherine Join-Diéterle,

notes the designer's enduring love of lace; '

"It was consistently present in all his collections, even during his first in 1937 and his last in 1968."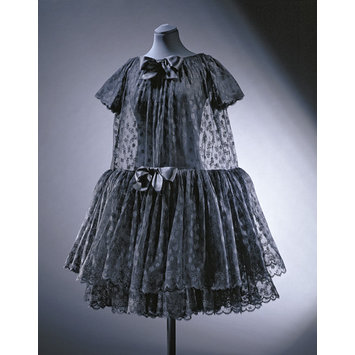 Baby Doll Dress, 1958, courtesy of the V&A
Balenciaga by Boris Lipnitzki, 1927
Balenciaga did not court the hype that Christian Dior did, or make proclamations as Coco Chanel was wanton to do. He was a quiet revolutionary, who quite literally re-shaped fashion forever and will always be revered in haute couture history.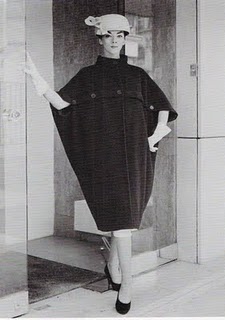 Balenciaga Sack Dress
Balenciaga Peacock Tail Dress
"
Almost since the first day he launched his salon in 1937 he has been acclaimed as the great leader in fashion;
what Balenciaga does today, other designers will do tomorrow, or next year, by which time he will have moved on again."
Vogue, 1962