Monday night saw Channel 4 exploring the raunchy but artistic world of Christian Louboutin. The documentary, entitled

'Louboutin: The World's Most Luxurious Shoes

', was a charming portrayal of Louboutin as a character and gave a fascinating insight into the sources of his inspiration.
Admittedly, I thought Louboutin was going to be off his rocker. I was pleasantly surprised by his endearing demeanour and evident self-awareness. It became clear as the programme ensued that the Louboutin brand was an absolute reflection of Louboutin's stylistic vision for women.
I have always dismissed Louboutin shoes as the hallmark of a WAG, as being cheap looking (despite their average price tage of £600) and (dare I say it?) trashy. This documentary, however, offered a depth and credibility to the brand which I had previously found to be lacking. Louboutin detailed his fascination with film clips in which empowered women stalked sexily in high-heels. Forming the beginnings of his vision, Vivement Dimanche (1983) and the sexiness of Marilyn Monroe's walk in Some Like it Hot (1959) provided seductive inspiration.
Through a cinematic Caesarean, his brand was born.
Since its conception in Paris in 1991, the Christian Louboutin brand has seen a meteoric rise in popularity. When questioned on his famous clients, the same discretion which has earnt him the trust of the A-listers which bolster his image, was evident in his answering. He presented Angelina Jolie's Maleficent shoe which she had worn to every première, he spoke of the image of a forelorn Princess Diana looking down at her feet as the inspiration for his pair of trademark red 'LOVE' emblazoned navy shoes. Yet, in a display of cautionary intelligence, he never once told a piece of headline-grabbing gossip. Referencing this, he said he thought of his role as that of a doctor with a confidentiality clause: "
a doctor has secrets and a doctor never speaks of his patients.".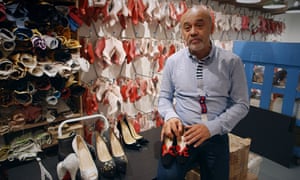 Louboutin with his Diana 'LOVE' inspired shoes
This interesting and humane nature of Louboutin as a person was furthered by the revelation of his recent venture in Bhutan (where
he is of course personal friends with the Bhutanese royalty). Through the artistic enterprise of a group of Bhutanese students, Louboutin encouraged the creativity of a traditions-based culture. The students painted wooden blocks in the shape of shoes with varying designs of their own imagination, ranging from cigarettes to vividly coloured patterns. Louboutin then transported the hand-painted wooden blocks to Paris (so that he could make his selections in neutral surroundings without the emotional influence of Bhutan) where he chose the best pieces which would feature in his collection.
It may seem the polar opposite from the fetish-orientated foundations of his brand, but this venture only serves to demonstrate the pure artistry and expressiveness of Louboutin shoes. Louboutin as a brand serves not only to make women walk taller and more seductively (Christian notes that the high heel forces women to push out their breasts and pull back their shoulders in order to stay balanced), but also acts as the footwear representative of haute couture. It isn't practical, it isn't useful, but it is someone's vision.
Bhutanese Student's Designs
Louboutin testing a prototype of the Bhutanese Designs
"You are going to see a documentary about someone who's been loving what he's doing, but he's doing something totally useless," said Christian Louboutin.